Complete Pitching Laboratory
To achieve their greatest, pitchers need more than just a speed measurement from a RADAR gun. In order to win, you need to understand everything about your pitch: spin rates, spin axis, lift, body mechanics, and more. The pitchLogic system is a complete set of pitching metrics that exceeds systems costing thousands of dollars, but only costs $250. F5 Sports used advanced technology to put the same capabilities of 3D camera systems and advanced RADAR systems into a baseball that connects to your phone. Whether you are already serious about your game or just starting out, pitchLogic will help you find your best game!
Better Pitching for Every Pitcher
pitchLogic is a revolutionary tool for pitchers of all ages and playing ability. Young pitchers benefit from the engagement of the simple feedback that helps them progress with every pitch. More productive practice also saves pitches for the game and for a long career. Developing and established pitchers can use pitchLogic to strengthen their best pitches and explore new pitches that may have eluded them in the past. pitchLogic also helps a pitcher coming back from an absence or injury by showing the numbers from before the break. A pitcher can then "dial-in" back to where they were.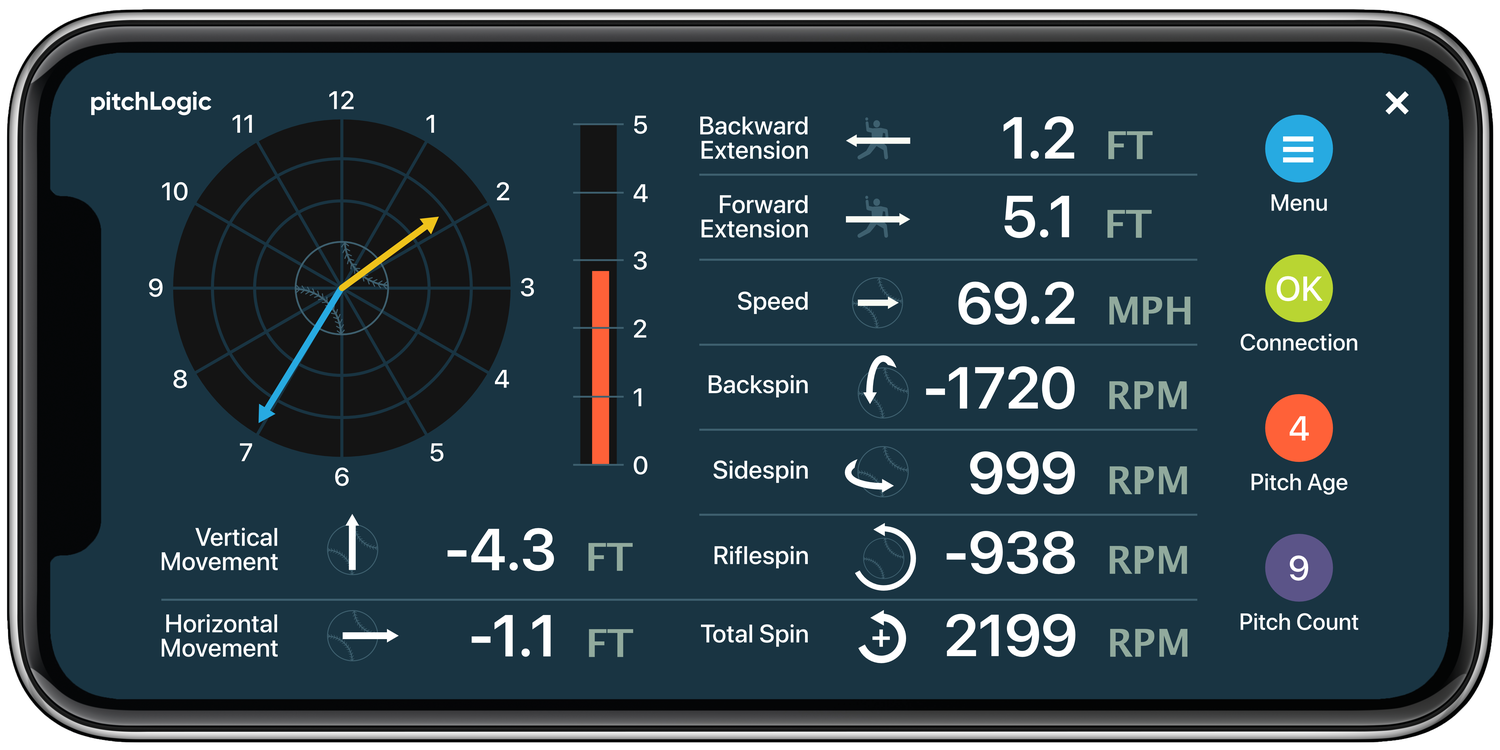 Advanced Analytics on your Phone
The pitchLogic baseball provides metrics for body mechanics, spin and breaking force no other system can. Improve your command of speed, spin and break by connecting real-time feedback to muscle memory.
Nearly Indestructible
This is one tough baseball! The electronic module is protected by a high-tech polyurethane rubber and wrapped in professional grade leather. In our product development laboratory we have subjected the pitchLogic baseball to extreme heat and cold, crushing pressure loads and thousands of pitches. We even built our own durability robot that pitches the ball continuously at speeds of more than 100mph. All of our test balls endured more than 10,000 pitches without a failure!
Advanced Technology
pitchLogic is built on new technology that enables capabilities only available in high-end pitching laboratories. Using the very latest sensing and computing silicon along with deep learning neural networks, pitchLogic leaps past SAR, camera and motion capture systems to bring more capabilities than any other system.
Technology That Stays Out In Front!
The pitchLogic system for baseball and softball is the most advanced pitching monitor in the world. It is using technology that wasn't available until recently. The system is built from super fast CPU's that measure 15,000 points per second and process the data with advanced mathematics and neural networks to produce astounding results.
And we aren't standing still. Your pitchLogic baseball or softball can be updated right from the app. This means that you will always have the latest capabilities in your ball. pitchLogic is more than a smart ball, its an investment that keeps growing!
Easy to Use
Just connect to your smart device and start pitching. pitchLogic measures a full set of metrics analyzing your throwing motion and ball flight. Click on the buttons below to get a quick look at what pitchLogic can do for you. Now compatible with iOS and Android smart devices!
Made in USA
All of the engineering design, software and app development, and testing was done within our facility in North Carolina. In addition to the R&D process to create a breakthrough scientific instrument, we also had to make the ball feel and act like a real baseball. We examined dozens of materials for the core construction and sought out the very best supplier of American leather. Then we combined technology and craftsmanship into the pitchLogic baseball.
Once the product was ready to go we built out a production facility to manufacture the ball. The electronics are assembled for us by a company in Sunnyvale, CA. After testing the electronics module, we over-mold it with a tough polyurethane, then our team of skilled craftsmen wrap the ball with professional grade baseball leather and stitch it by hand. The result is the most advanced pitching laboratory in the world that also happens to be a pretty fantastic baseball.